About Autumn Breeze Kennel
A Professional Hunting Dog Trainer in Minnesota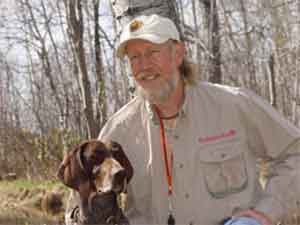 Autumn Breeze Kennel, which was founded in 1992, is a professional hunting dog training facility in Minnesota.  Ed Erickson is the owner and trainer at Autumn Breeze Kennel.
Autumn Breeze Kennel is located in north central Minnesota, just south of Lake Mille Lacs, near the town of Isle, MN, or about an hour and a half north of the Twin Cities of Minneapolis and St. Paul.
Owning and breeding German Shorthaired Pointers, he has tested his dogs and many customers' dogs in the NAVHDA and AKC testing programs, resulting in many highly prized dogs.
Versatility in a Versatile Dog Trainer
With the many breeds of versatile pointing dogs where does a trainer get the experience training a rare breed?  Ed Erickson, to date, has trained more than 20 different pointing dog breeds including:
And other flushers, pointers and retrievers.
All dogs are not the same and each breed seems to have a little different twist on how it sees life and hunting.  One has to be able to read and adapt to any breed of dogs behavior and Ed does this well.
Along with being versatile he has trained 5 NAVHDA versatile champions.  This included his own GSP as well as working with 4 other dogs-a Large Munsterlander, a Spinone, a Griffon and a German Wirehaired Pointer-and training their owners to properly handle them as well.
The mission of Autumn Breeze Kennel is to bring out the full potential of the gun dog with a customized training program for the dog and you, the hunter and handler.
Click here to read an article written by Ed Erickson about all purpose hunting dogs.
Click here to read an article written by Gary Olen of Gary Olen's Outdoor Adventures.
Click here to read an article written by Tom Baxter that appeared in NAVHDA's magazine.
DO YOU
BELIEVE
BENEFITS of a great organization such as NAVHDA reach far and wide.  It is one of the best testing programs in the dog world.  Great camaraderie with hunting enthusiasts just wishing to have a well trained versatile dog.  Believe me the list goes on.
ENERGY is what drives the organization from the national to guide us in structure to the local chapter where the board turns the switch to keep the members involved with training, testing, and volunteering.  Believe me the list goes on.
LEARNING is always on going when involved with anything to do with NAVHDA.  From training sessions, hunting, and with every gathering of NAVHDA members you will find people with a common goal willing to share knowledge.  Believe me the list goes on.
INTEGRITY is what is at the forefront of this great organization.  I BELIEVE NAVHDA is looked at from the outside circle of dog people, as being one of the best and truest testing programs with no competition judging to a set of standards, utilizing a judging team that has been well versed in the system.
ENTHUSIASM is at every turn with NAVHDA.  Members are willing to help all, anywhere anytime and to carry the message of what NAVHDA is all about.
VOLUNTEERING is the backbone of this great organization. A non-profit organization with its board and members donating their time so we all can reap the rewards that come from having a well trained Versatile Dog.
EDUCATION is what NAVHDA does well.  It educates its members and the general public about training, testing, ethics of dog care, hunting and the respect for nature and the birds we pursue.
DO I BELIEVE? Yes, I do.  After 20 plus years of belonging to this great organization, of meeting and acquiring new friends, of learning new training techniques, and launching a new career, I believe.  I also know for NAVHDA to stay on the mission there will be more growing pains as we adjust to the needs of making our testing, judging, and record keeping at the forefront of the dog world.  I do BELIEVE I will be just as enthused and energetic in the next 20 plus years as I have been in the past 20 plus years. - Ed Erickson
Contact us today to see how we can help you and your hunting companion, or to inquire about any of our started dogs or upcoming litters.  Our track record speaks for itself, and you will be fully satisfied with the outcome when your dog is out in the field with you.  We look forward to working with you!