Our Hunting Dog Kennels
Indoor & Outdoor Kennels
Modern, Clean & Sanitary Facilities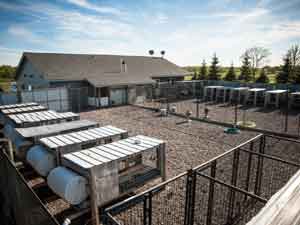 Autumn Breeze Kennel built a newer, modern facility in 2008.  This is a clean and sanitary indoor hunting dog kennel and training facility and features an air exchange, air conditioning and in-floor heat.
We also have a large, outdoor kennel area that we utilize when the weather is favorable.  Fresh water and food are always monitored and replenished as needed, and each hunting dog has their own kennel.
The kennels provide easy access for the trainers, and the ability to easily maintain and clean them on a daily basis.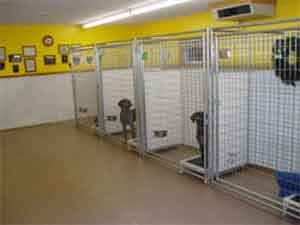 The indoor dog kennels at Autumn Breeze Kennel were designed to provide privacy for each individual run, complete with Teflon dividers between each dog kennel.
This also keeps each dog separated from other dogs, yet allows for socializing.  This is an important part of the hunting dogs development too.
This design allows for easy cleaning and sterilizing, and at the same time it will prevent hunting dogs for agitating each other. Private yet roomy and clean.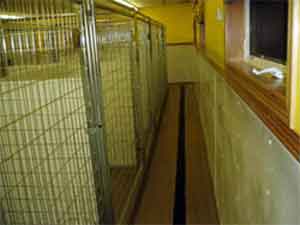 The walls inside the kennel area are painted in a warm shade of yellow, which enhances the overall brightness and adds a sense of comfort for the dogs.
It has a very soothing effect on some younger pups who may suffer from separation anxiety.
In no time at all they seem to adjust to their new kennel home during their stay for training.
Our goal is to not only train your hunting dog, but treat him with respect and provide a safe, warm place to stay.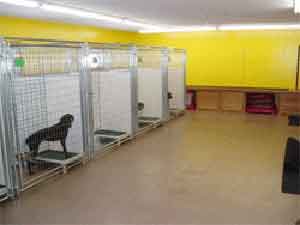 Kuranda dog beds are provided in each run for your hunting dog.  These beds are comfortable, chew, rot and mildew proof, and keep them off the floor.
Keeping them off the floor is important, as it will provide additional warmth during colder weather and keep them cool when it is hot.
Your hunting dog will be well cared for when training at Autumn Breeze Kennel!