Hunting Dog Litters
Current Available Puppies & Planned Breeding
German Shorthaired Pointers & Other Gun Dog Breeds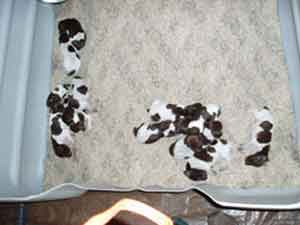 Autumn Breeze Kennel sometimes has hunting dog puppies ready for purchase and training.
If you wish to be notified in the event of us planning a new litter of gun dogs, please contact us.  These hunting dog puppies will have great bloodlines.
We breed our dogs with professional care and techniques to ensure the outcome is a beautiful litter of hunting dogs, and that all puppies and mothers are in great health.
Much thought is put into our selection for the breeding process, with many different criteria to be considered for the best potential litter possible.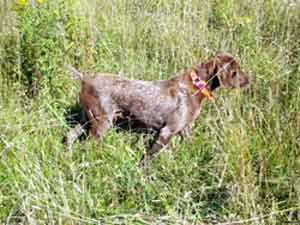 Autumn Breeze Kennel will use our studs and dams, or we may also use client hunting dogs for breeding.
The success we have had using gun dogs with great lineage and titled dogs ensures that only quality hunting dogs and companions will be produced in these litters.
As you can see, these German Shorthaired Pointer puppies are a liver/roan and white mix.
Some may developed with heavy ticking-it will be better known as the grow older.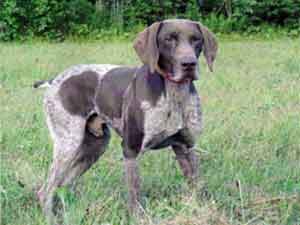 These German Shorthaired Pointers will grow into outstanding hunting dogs. We have a great track record with breeding and training outstanding hunting dogs.
All of our gun dogs are health-certified before they are offered up for sale, and we provide full pedigrees and previous gun dog and training customer references.
We guarantee that you will not only be satisfied with our lines, but you will be proud of the fantastic new hunting buddy you have acquired!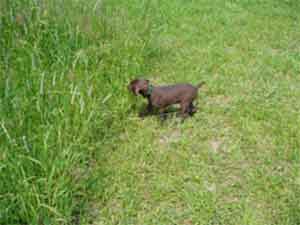 Autumn Breeze Kennel is proud of our track record and history of breeding and training champion dogs-just inquire on our accomplishments!
We also may have started dogs for sale! Call now to inquire if any are available!
View current available litters here!
Contact us for any additional information regarding upcoming litters. If you are thinking about a puppy, please contact us to discuss the options we may have available for you.