The German Shorthaired Pointer
Information on the German Shorthaired Pointer
A hunting dog breed trained at Autumn Breeze Kennel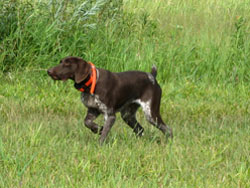 The history of the German Shorthaired Pointer is documented back into the 1700's in Europe.
In the 1870's in Germany, the German Shorthaired Pointer confirmation as we know it today became settled.
A group of Germans set about to breed a stable form of dog which would have the qualities required to be a good field dog and as well in water.  During this same point in time there was a pedigree register set up as well.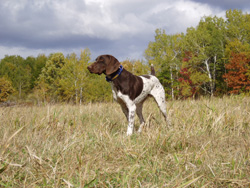 The German Shorthaired Pointer arrived in the United States sometime after World War I and has been a very popular dog with the American sportsman since.
It is a very versatile hunting dog being used for upland hunting as well as waterfowl hunting.
The general confirmation of the German Shorthaired Pointer should be well balanced and symmetrical with confirmation indicating power and endurance and agility.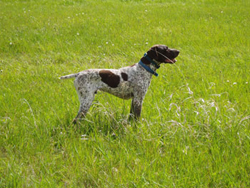 The German Shorthaired Pointer should have a clean cut head, as well as sloping shoulders, deep chest, powerful back strong hind quarters, good bone, adequate muscle, well carried tail and taut coat are desired characteristics.
Size in height measured at the withers for males is 23 to 25 inches. Height of bitches at the withers is 21 to 23 inches.
Weight of the males is 55 to 70 lbs., and the weight of females is 45 to 60 lbs.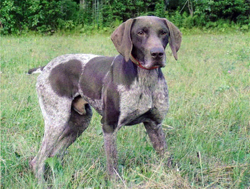 The German Shorthaired Pointer is either square or slightly longer than he is tall.
The coat is short, thick and feels tough to the hand.
The color may be of solid liver or black or combination of liver white, black white ticked, patched or roan.
The gait should be smooth. The temperament is friendly, intelligent and willing to please.
The German Shorthaired Pointer has a keen desire to work without hesitation.  One drawback maybe that some German Shorthaired Pointer's do not handle extended periods of cold weather and cold water during late season waterfowl hunting.
Additional breed information for the German Shorthaired Pointer can be found at the American Kennel Club Website.